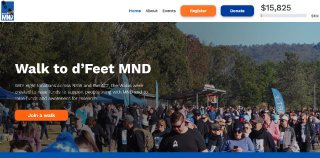 Together We Can... three small words, that mean so much to our fundraising team.
They highlight the important role our community fundraisers play in raising vital funds for us. They emphasise the important work done by our volunteers selflessly giving their valuable time and skills at events, doing administration work, as ambassadors for our Association and so much more. These three words enable us to reflect on what we can achieve if we all work together towards a shared goal - providing the best possible support and assistance for each and every one of our members and their families.
Our Walks are a great example of what we can achieve together. They bring together family, friends and colleagues to show people with MND that they are not alone in this journey.