Bob Pullen was diagnosed with MND in early 2020, and not only was it a huge shock for him after going through the process of ruling out other conditions, the diagnosis was 'shattering' for his wife and family.
The first thing his son did after hearing the news of Bob's diagnosis was to hold a 'farewell BBQ' for him with his friends.
"My son always used to have his friends around for a BBQ, so that's what they did for me after finding out I had MND. I'm still here though," Bob laughed.
While Bob still has a healthy sense of humour, unfortunately motor neurone disease has taken his ability to move around independently, turning his legs 'jelly-like', and also affecting his arms. But he's determined not to let it stop him spending time with his wonderful family while he still can.
Bob has been able to get equipment from our FlexEquip equipment library to help him with his everyday living while his wife cared for him at home, and now has a wheelchair from FlexEquip to ensure he can still get around his assisted living facility and take part in community events there. He said he 'felt like a king' when the equipment arrived for him.
"With all the equipment I received its amazing – I would have had to buy it myself, but instead I was able to get every bit I needed to get me by," he said.
"I think the equipment I received has a lot to do with how I've gone. With MND, there's lots of different stages you go through – you help yourself to a point, then you need someone else to help you."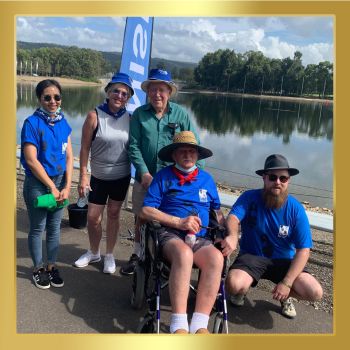 It wasn't always like this for Bob. Before being diagnosed with MND, he was active and when not spending time with his family he loved his sports.
"I played a lot of golf and tennis - I was golfing until my 60s and early 70s, and had a single figure handcap. I've loved sport all my life, whether watching or participating in it," he said.
Now he relies on his wheelchair to get where he needs to go, whether it's heading to the shops or out to watch a movie with his son, continue to do little things to assist his wife like tackling the Christmas shopping for the family, or to socialise and get to meals at his assisted living facility.
"With this chair, I can go everywhere!" Bob said.
"The equipment I've received from FlexEquip is always in really good condition, mine has always looked brand new – as long you look after it, it's the least we can do. I'm profoundly grateful and thankful for everything that's been donated to me, as I couldn't afford it. This wheelchair is worth about $25,000. These are great for driving around, I can drive down to the front door of my assisted living facility and hop in the taxi and go home, it's been really very very useful."
"With the equipment service through MND NSW, it's a graduation of equipment from day one, it's never been denied to me. I've met others at online support groups– they've all had different pieces of equipment to get through the stage they're at, FlexEquip is an extraordinary service."
This Christmas, we're raising funds to support more people like Bob who need equipment - you can donate to our 2023 Christmas Appeal now and ensure people battling motor neurone disease receive the assistive equipment they need to live the best life they can, for as long as they can.