Our FlexEquip Team are here to help you get the equipment you need. In this blog series, we'd like to introduce you to some of our team members, finding out how they assist you and why they enjoy being here at MND NSW.
My name is Julie Becke, I have been working at MND NSW for 10 years and I'm a FlexEquip Support Officer. My role has expanded over this time, as has FlexEquip and its service.
All online referrals and communications come to the one email address – FlexEquip. From there I sort through the emails and referrals and distribute and reply to them as required, to make sure everyone is assisted.
Sometimes they are regarding equipment collection, repair, or courier enquiries, which my colleague Nicole Smith will look after. Others are regarding our participants – I read these over, and can assess the changes in needs and urgency of equipment needed. At times, they will also be linked in with one of our MND Advisors or a member of our MND COS team for NDIS. I sometimes also need to consult with my manager Alicia Gibb to understand some more technical aspects of what is being requested and how best to respond to the therapists and what they are needing. Regardless of what is required, I always communicate with the referring therapists as quickly as possible, often calling to discuss with a more personal approach in some circumstances.
Often, time is of the essence to process and get the equipment out as soon as possible – to prevent falls or pressure issues and to assist the caring role, which I understand all too well. I lost my dad to MND (he was 68) at the age of 28, so I understood all the care support that was needed even back then. Having also lost a sister to cancer, and more recently my beautiful husband Graham of 40 years in May 2020, I fully understand the Palliative Care system – the pressures of caring and working and trying to juggle family during a harrowing time of dealing with a terminal illness.
My lived experiences add to my day-to-day work and conversations with people and therapists – I understand all too well on many levels what they are going through, although they do not know my full personal story.
We can't help people with MND get better, but what we can do is make people comfortable, confident, independent - all those things that we want for ourselves and for people with disabilities.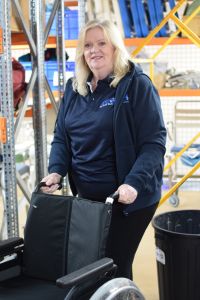 I generally receive feedback from therapists, where Nicole receives more participant feedback. Our clients can see that we're doing the best we can to help them with the time they've got. To know that our service is making the people we assist and their carers more comfortable, confident, independent, and safe in their home environment is all I need to know. When we do get the occasional image sent through, such as someone in their electric wheelchair or using an eye gaze for communication, it makes it all worthwhile.Whilst all items in our FlexEquip library are needed, the raiser recliner armchairs are a high-demand item, and one that is often required soon after diagnosis – not only for comfort, but also to be able to get up and down safely. iPads for communication are another highly requested item, and one close to my heart. My dad lost his voice early on in his MND journey. I lived in Sydney and he in Orange NSW. It was so hard back then. Things like iPads and other new technology we have today like email, Face time , Messenger and WhatsApp let alone voice banking and the more sophisticated eye gaze technology, was not around 34 years ago .

These are just two items of so many that most of our participants will require along their journey with MND – others include manual, basic and Tilt in space electric wheelchairs, pressure care cushion, electric beds, pressure relieving mattresses, hoists, shower and bathroom aids for safe bathroom and toileting use.
Whilst the NDIS helps those who are under 65 years old, generous donations to MND NSW we receive can help those aged 65 and older to provide the same services that they also require to manage day to day, stay at home safely and well supported.
I am a qualified TAFE fashion teacher, and then worked in the Couture Bridal industry as well as teaching at TAFE for many years while I was raising two small daughters. I also worked in MS (Multiple Sclerosis) as an OT assistant before coming to MND NSW.
It's cliché I know, but the best thing about being a part of the FlexEquip team at MND NSW is helping people. To know there is someone here to assist and understand what they are going through. There is still no cure, but we can make the day to day somewhat better or manageable. We can make a difference.
This Christmas, we're raising funds to expand our FlexEquip equipment library - you can donate to our 2023 Christmas Appeal now and help Julie and her colleagues in the FlexEquip team provide more vital equipment to the ever-increasing number of people we assist who are living with MND.