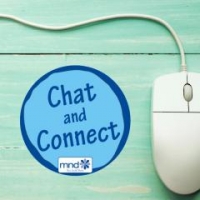 Do you or a family member have MND? Would you like the opportunity to informally connect with others who share a lived experience of MND? MND NSW invite you to come along to this facilitated online Chat and Connect!
At MND NSW we have learnt that connecting with others in the MND community helps to build both knowledge and resilience.
Monday 14 December
12:00 pm - 1:00 pm
A member of our Support Service team will also be there to guide the conversation and to answer any questions that you may have. If you can't remain for the whole hour, you are still welcome to "drop by" and join us for a little while.
If verbal communication is challenging for you, you will be able to join the conversation using your keyboard and the 'chat' function, or by using your assistive speech technology.
Joining instructions will be provided after registration. To learn more, or to register to attend, please email: This email address is being protected from spambots. You need JavaScript enabled to view it.