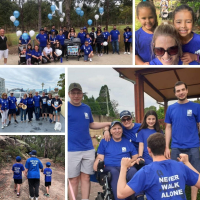 Whether it's laps around your local park or your loungeroom, our Virtual Walk to d'Feet MND gives you the option to choose your own Walk time and location anytime during 2023!
Register now, and you can start fundraising for your very own Walk to d'Feet MND event - you'll be helping MND NSW provide equipment, support and more to people living with motor neurone disease.
You can even track your Walk progress with Strava, your Fitbit, and more!
T-Shirts are available for the event, with multiple postage options so you're dressed for success whenever you hold your Walk.
We'd love to see your photos and know how your Walk to d'Feet MND went - tag us in your social media posts, and use the hashtag #walktodfeetmndvirtual2023
Register to take part in your Virtual Walk to d'Feet MND today