The researchers have provided the January 2016 update on the ALS Quest project (launched January 2015).
"In January 2015, we launched the research project ALS Quest, to look for causes of amyotrophic lateral sclerosis (ALS) and motor neuron disease (MND). We would like to share with you how the project has progressed and our goals for the new year.
The Questionnaire
The online questionnaire for ALS Quest was officially launched on January 30, 2015, when the English version went online at www.alsquest.org. As of December 2015, over 500 completed responses have been submitted via our website, which is more than 10 times the number of responses received in the same time period using our previous paper-based questionnaire! Overall, approximately 1,800 people have clicked on our website to check out the questionnaire.
MND/ALS associations have greatly helped in spreading the word about the questionnaire - thank you for all your efforts. We still need more respondents to obtain valid results, so we will be continuing with ongoing publicity efforts throughout 2016.
Translating ALS Quest
We are currently in the process of translating the questionnaire into 36 languages other than English.
This effort is being undertaken by our tireless volunteer translators, all of whom have made significant contributions to the success of this project. We would especially like to thank the volunteers who completed a translation of the questionnaire in 2015. These are, in alphabetical order by language:

Elaine Mostert (Afrikaans)
Korri Elvanita El Khobar (Bahasa Indonesian)
Min-Xia Wang (Chinese)
Lene Rahbek (Danish)
Joyce Welten and Paula Niewold (Dutch)
Isaline Goemaere (French)
Patrizia Viani and Bernardo Nannini (Italian)
Nam Gu (David) Kang (Korean)
Marcin Falkowski (Polish)
Filip Vujovic (Serbian)
Trang Thi Hoai Nguyen and Ruby Ly (Vietnamese)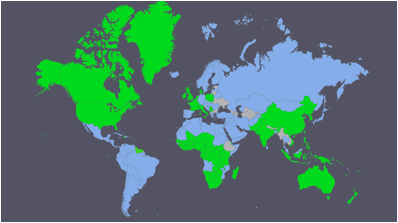 So far ALS Quest has been translated into 11 languages, allowing it to cover a significant proportion of the world. In the figure you can see the countries where a translation is currently available (in green), and countries where a translation will be available in 2016 (in blue).
ALS Quest in the Public Eye
Jane Parkin Kullmann has given presentations about ALS Quest in several forums, including eight Rotary International groups and the MND Associations of New South Wales, South Australia, and Victoria.
In August 2015, our first research paper, which summarises the development of the ALS Quest questionnaire, was published in JMIR Protocols. You can read the article online here : http://www.researchprotocols.org/2015/3/e96/.

We also presented a poster on ALS Quest at the MND Australia Research Meeting at the University of Sydney in November 2015, which was shortlisted for the poster prize.
Another initiative that we have undertaken to spread the word about ALS Quest is creating a presence on social networking sites. If you are on Facebook or Twitter, you can follow ALS Quest on:
Facebook: ALS Quest Sydney Uni
Twitter: @ALS_Quest
ALS Quest: Where to from here?
We have many plans for ALS Quest for the coming year. Our priority is encouraging people to fill out the questionnaire, which will enable us to find risk factors for ALS/MND in the shortest time possible.
We also anticipate that throughout the coming year we will be able to bring online the remaining 25 translations, which will increase the reach of the ALS Quest project to virtually all countries in the world. This will allow comparisons among a large number of countries to see how reliable the ALS/MND risk factor findings are.
Contact ALS Quest
Have any questions or want to know more? You can reach us via any of the methods below.
We also have promotional bookmarks that we can send you to give out to people who might be interested in participating in ALS Quest. Just let us know how many you need and where to send them.
Roger Pamphlett
Brain and Mind Centre, The University of Sydney
94 Mallett Street
Camperdown NSW 2050
Australia

Email: This email address is being protected from spambots. You need JavaScript enabled to view it.
Phone: +61 (2) 9351 0972
ALS Quest - www.alsquest.org
"